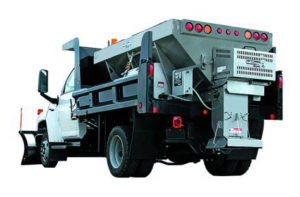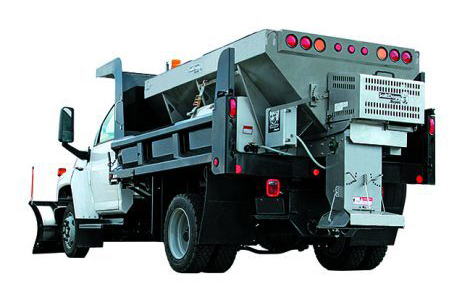 PERSONALIZED CONSULTATION
We consult with you to find the appropriate salt spreader and mix of granular to liquid solution for your needs. Salt and brine application is part art and part science. Allied Equipment has years of experience pairing the right hoppers and salt mix for your municipal needs and climate. We also pick the right hoppers to fit your fleet of vehicles.
GRANULAR SALT VS. LIQUID BRINE
There are two major categories for salt spreading. Granular salt, and liquid brine. Each is suited to handle different surfaces and storm conditions. Allied Equipment sells salt spreader hoppers for granulated salt, liquid brine, or a combination of the two. We help you find the right equipment to keep your roads free of snow and ice.

HENDERSON
Henderson was founded in 1946 in Cedar Rapids, Iowa, and is now part of Douglas Dynamics. They specialize in designing salt spreaders and hoppers tailored to specific weather conditions. They have over 70 years of experience building top of the line equipment.
Some of Henderson's features include:
One of the oldest manufacturers of salt spreaders
Stainless steel hoppers
Combination hoppers

TENCO
Tenco is one of the oldest and best suppliers of severe duty salt spreader equipment. Founded in 1976, they are respected throughout the snow belt as the premier manufacturer of severe weather snow and ice equipment.
Some of Tenco's features include:
Slide-in spreaders (V-Box)
Frame mount spreaders
U-combo spreaders
Side belt spreaders

BUYERS PRODUCTS
Buyers Products is an American company founded in 1946. They have a huge variety of salt spreading equipment and accessories. They design, fabricate, forge, mold, and powder coat in their factory right here in the USA. That means they can fulfill orders quickly and customize equipment.
Some Buyers' Products features include:
One-stop-shop for salt spreading equipment
Budget prices
Wide variety of products
Replacement parts
SCHMIDT
Schmidt is a German company founded in 1920. They specialize in precision salt spreaders that cut down on the amount of salt needed. They have a large network of distributors in North America that operates under the name ASH.
Some of Schmidt's features include:
World-renowned
High-tech liquid slurry
European precision
Top of the line
REPLACEMENT SALT SPREADER PARTS
Allied Equipment is your one-stop-shop for salt spreader replacement parts. No matter which brand or style you choose, we have replacement parts to keep your equipment functioning at its best.
WE COME TO YOU IN MAINE & NEW HAMPSHIRE
We come to you to consult and determine your salt spreading needs. We make sure that your new equipment will be compatible with your vehicles. Every municipality is different. We put our years of experience to work for you customizing equipment to fit your needs.
Why Choose Allied Equipment
Competitive Pricing
Experience & Knowledge
Personalized Service
Industry Connections
We Come To You
Locally Owned